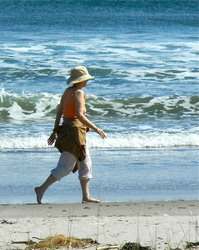 GAIL SALZMAN . Artist's Statement, Aug 2018
My work explores the dynamic principle of change. The sensual quality of oil paint speaks to this elemental flux, influencing my choice of materials and methods.
Using rolling, scraping, and pressure techniques I exploit the unexpected. Drips, translucent color shifts and accidental textures are integrated with the intuitive process.
Painting becomes a continual search for visual order amid contradictions. The real excitement comes when I loosen my grip and follow the movement of paint, creating an interplay of the intentional with the unknown.
photo by Karen Becker